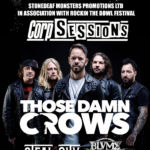 Those Damn Crows Rockin' the Corp Sessions
£15.00
No half measures! Get ready for Those Damn Crows, Steal the City and Blame the Sacred!
Stonedeaf Monsters Promotions Ltd in association with Rockin the Bowl festival and The Corporation Sheffield are absolutely delighted to welcome back to Sheffield the mighty Those Damn Crows. It's been way too long and we can't wait! This is going to be one not to miss!
Support provided by one of Sheffield's finest, Steal the City and and absolute powerhouse from Doncaster, Blame the Sacred.
Have a look at our other Corp Sessions gig, coming in up August here.
Welcome to the party!
Terms and conditions of venue:
The venue management reserve the rights to refuse admission into the event for any reasonable circumstances (such as excessive alcohol consumption, being under the influence of illegal drugs, threatening behaviour.
In the interest of customer safety, Venue Staff may perform a search of their bags/personal belongings.
Refunds enquiries please direct to Rockin the Bowl, not Corporation.
Reselling of this ticket for profit or commercial gain makes it void.
In certain instances the venue may be required to make alterations to the advertised details of the performance at short notice. Rockin the Bowl will keep you informed by email of any changes.
If you cannot see or hear the event/performers properly or there are any other issues hindering your enjoyment, please let the venue manager or promoter know straight away, during the show, not afterwards.
Any loss or damage of personal property whilst at the venue is not the responsibility of the venue manager or the promoter. Neither party can be held accountable.
The unauthorised use of cameras, video recorders or other recording equipment is strictly forbidden unless otherwise stated inside the venue on the day of the event. This could result in confiscation of these items.
Strobe lighting may be used at the event.
Age limit, 14 years and over.