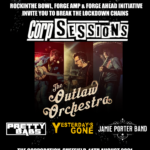 Corp Sessions Gig Ticket 14th August
£10.00
Ladies and Gentlemen.
Here are the details of the Corp Sessions gig in August and a
CLEAR
and comprehensive guide of what to expect.
Before we go further… we are confident you will be able to go to a gig but there is every chance that certain conditions to do with mass gathering may still apply. So…without further ado let's move on.
Tickets are £10 each and will be e-tickets that can be

printed or shown at the door when you arrive…you will get an email with your tickets closer to the date. We send all these out manually so there won't be any mistakes.
The age limit is 14+ (under 18s need to be accompanied by an adult).
This is a gig in a covid-secure environment.
A combination of cash and card will be needed for this event.
There will be plenty of chances to go to the toilet or visit the Merch stand in between bands etc… we have ensured that there will be plenty of room to move around while still keeping distances within any guidelines that may still exist… please use common sense at pinch points such as toilets etc.
The Corporation staff are nice people and will not be using a militant or heavy handed approach and we (being rock fans) will give them no cause to want to.
We will email you your tickets shortly. Please be patient, we are going to do this manually to avoid any misunderstandings. Also, please provide your phone number at checkout to ensure quick and smooth communication. We will not pass any of your personal details to a third party for any reason.
All that remains is to ask you all to support this event… it has been a long time waiting for live music to be back on the table and now it is, lets make it happens and show that we

CAN

do this well. If it works out we will do everything possible to make sure some more 'Corp Sessions' will happen.

THANK YOU ALL

.